Published & Updated as on - 2010-03-21
Finding jobs in the telecommunication industry in India isn't difficult. As new technology opens new doors and creates new telecom vacancies, making this sector a big employment generator.

The starting salary for telecom engineers is between Rs 3 lakh to Rs 5 lakh per annum. Customer management jobs could fetch a starting salary between Rs 2 lakh to Rs 3 lakh per annum. The new players in the market are trying to attract talent at 15-20% higher salaries. This has also led to poaching of talent at middle and top levels while robust hiring by the telecom companies at the entry level continues.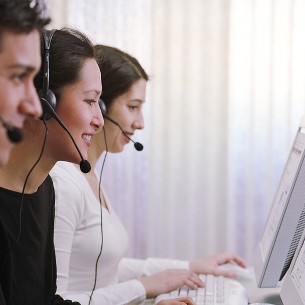 Finding suitable talent in this field has been the major reason for high salaries in this sector. Industry experts believe that the talent crunch in this sector will push salaries even further. There is a demand for qualified and skilled professionals with knowledge and technical know-how in these fields. Thus, the sector rewards talent in a big way and is on the lookout for talent to suit its ever growing demand.

Telecom is a vast industry and offers a wide range of career opportunities on both the hardware and software front. It includes mobile telephony, internet protocol media system, wireless communications, GSM, GPRS, CDMA, VoIP, data networks, optical networks and more.

Overview

Indian telecom industry has witnessed an upswing and is presently on a high speed growth path.

As per the data released by TRAI (Telecommunications Regulatory Authority of India) India now has 543.20 million telecom subscribers. With this, the overall Tele-density in India reaches 46.32.

As India targets a stable 6-8% annual economic growth, and regulatory policy fosters investment, this trend should continue. The TRAI targets 20 million broadband and 40 million total Internet subscribers by 2010.

Major contributors to this growth are the adoption of technologies like video-conferencing and TelePresence technology that are fast becoming popular tools of cost saving.

Telecom Growth Continues

India's telecom service industry revenue is projected to reach USD 54 billion in 2012, as compared with USD 31 billion in 2008 according to the CII Ernst & Young. Today, the telecom market in India enjoys a growth rate of around 45 % which is the highest in the whole world.

The Indian customers are embracing mobile technology in a big way and there are predictions that the country's telecom market will become a US$38 billion sector by 2010, contributing 5.4% to India's GDP.

Opportunities in India

Indian telecom industry manufactures a complete range of telecom equipment using state of art technology and there exist excellent opportunities for investors in this sector. The production of telecom equipments in value terms is expected to increase from Rs 412700 million (2007-08) to Rs 488000 million during 2008-09. India has potential to emerge as a global hub for telecom manufacturing. Favourable factors such as policy moves of the government, incentives offered, a large talent pool in R&D and low labour cost all provide a strong impetus to the industry.

Exciting times ahead

Apart from the basic telephone service, there is an enormous potential for various value-added services.

MVAS (Mobile Value Added Services) currently contributes around 9 % to the operator's revenue. It is expected to increase to 10.4 % in the next 1 year and 12% by June 2010. Mobile VAS industry in India is undergoing a lot of structural changes and is poised to grow and contribute greater revenues to the telecom industry and job opportunity in the years to come. Also Indian telecom sector is set to see another boom after the mobile boom. This boom will be triggered by the IPTV (Internet Protocol TV) and broadband.

Source: info.shine.com 22/3/10