Published & Updated as on - 2010-04-23
MMTS Extenstion to Tellapur and Airport. State Govt Plans to Accelerate Funding for MMTS Phase 2

Indicating its priority for providing better connectivity to the Rajiv Gandhi International Airport (RGIA) in Shamshabad, the state government has incorporated the Falaknuma-Umdanagar-Airport line in proposals for Multi-Modal Transport System (MMTS) phase-II. The state government on Tuesday issued a government order (GO MS No.174) agreeing in principle to fund two third cost of the Rs 641 crore MMTS Phase-II works.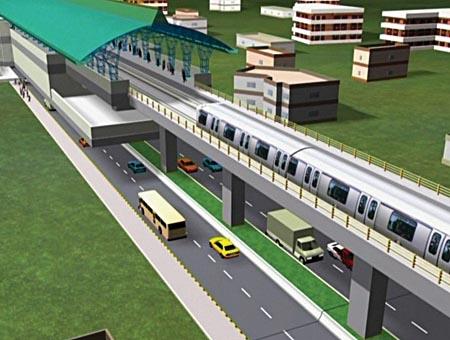 The municipal administration and urban development (MA&UD) department issued the GO approving the estimated cost of Rs 641 crore for MMTS phase-II. While the state government would bear two-third of the project cost, the rest would have to be borne by the Union railway ministry.

The estimated cost of airport connectivity is Rs 85 crore and the works include laying of new line from Umda nagar to airport and doubling and electrification of the existing Falaknuma-Umda nagar line.

Earlier, the South Central Railway (SCR) had asked the chief secretary to provide 37 acres of government land between Umdanagar railway station and Rajiv Gandhi International Airport to railways free of cost for MMTS connectivity to airport. Currently, the land is in possession of airport operator GMR, which has to be retrieved by the revenue department.

The SCR had also revised estimates for MMTS phase-II, bringing it down to Rs 641 crore from earlier estimates of Rs 1,800 crore. It submitted the revised estimates to the state government two months ago.

The MMTS phase-II project is divided into two stages. In stage 1,Falaknuma-international airport (Rs 85 crore), Tellapur-Patancheru (Rs 32 crore), Secunderabad-Bolarum (Rs 30 crore) and Sanathnagar-Moula Ali (Rs 170 crore) works would be taken up. The estimated cost of the stage 1 has been pegged at Rs 317 crore.

In stage 2, Moula Ali-Malkajgiri-Sitaphalmandi (Rs 25 crore),Bolarum-Medchal (Rs 74 crore) and Moula Ali-Ghatkesar (Rs 120 crore) lines would be taken up. Another Rs 20 crore has been kept aside for passenger amenities and Rs 85 crore for rakes (MMTS coaches).Railway authorities said on the Tellapur-Patancheru stretch restoration of tracks and electrification has to be taken up, while the Secunderabad-Bolarum stretch has to be electrified. On the Sanathnagar-Moula Ali and Moula Ali-Malkajgiri-Sitaphalmandi and Bolaram-Medchal stretches,doubling and electrification would have to be taken up.

The MMTS phase-II project is divided into two stages In stage 1, Falaknuma-international airport, Tellapur-Patancheru, Secunderabad-Bolarum and Sanathnagar-Moula Ali works would be taken up.

In stage 2, Moula Ali-Malkajgiri-Sitaphalmandi, Bolarum-Medchal and Moula Ali-Ghatkesar lines would be taken up.

Source: TOI 21/4/10

Hyderabad metro financial bids deadline extended

The Andhra Pradesh government has extended the deadline for filing financial bids for the Hyderabad Metro till June 7 based on the request of the bidders.

"Most of the bidders have sought extension of time for filing the financial bid as they are yet to complete traffic potential studies, financial modelling and other formalities.

Hence, we have extended the due date till June 7. There will be no further extension of the date," HMR Ltd Managing Director N V S Reddy said.

The other reason he gave for the extension of time was the "model code of conduct" in force for the ensuing election to the Hyderabad and Ranga Reddy Local Authority Constituencies.

Source: PTI 17/4/10

2 consortia jump off Metro Rail

Hyderabad, April 17: GVK and GMR groups have pulled out of the Rs 12,132 crore Hyderabad Metro Rail project. Reliance is expected to follow suit shortly.

They kept away from the meeting called by the principal secretary (municipal administration), Mr T.S. Appa Rao, on Saturday to discuss the project while five consortia representatives attended it.

"Reliance, GVK and GMR groups did not turn up," Mr Appa Rao told this newspaper.

This paper had reported in February that certain firms that had qualified to submit financial bids were having second thoughts due to the Telan-gana stir and falling land values.

Reliance sent a junior executive who told government officials that he was there only to observe the meeting only and was not authorised to make decisions.

"He said he will come back on Monday after talking to the management," said Mr Appa Rao.

Meanwhile, the representatives who attended the meeting requested three more months to submit their financial bids. The government agreed to give six weeks extension and allowed companies to submit their bids till June 7.

The consortia qualified to present financial bids are 1) Reliance (Anil Ambani) group 2) GMR. 3) L&T, Lanco–OHL (Spain) 4) Essar Leighton (Australia)-Gayatri-VNR 5) GVK-Samsung (South Korea) 6) Transstroy–OJSC (Russia)-CR 18 (China)-BHML and 7) Soma-Strabag (Austria).

Source: DC 18/4/10

Central government to fund city transport study

HYDERABAD: The Central government has given consent to the 'Comprehensive Transport Study' for Hyderabad Metropolitan region and has also agreed to fund 50 per cent of the estimated cost of Rs. 7.62 crore.

Total cost of the study is Rs. 15.24 crore and the Union Ministry of Urban Development has suggested formation of a monitoring-cum- appraisal committee which will have its own representative.

Rest of the money, Rs. 7.62 crore, will be shared by Hyderabad Metropolitan Development Authority (HMDA) 30 per cent, GHMC 30 per cent, APSRTC 20 per cent and another 20 per cent between Hyderabad Metro Rail Limited and Roads & Buildings.

HMDA was also asked to constitute an evaluation committee for ensuring the study is commenced soon.

These details were decided at the recent Urban Metropolitan Transport Authority (UMTA) meeting held under the chairmanship of Chief Secretary S.V. Prasad.

HMDA Commissioner and Member-Convenor of UMTA B.P. Acharya wanted earmarking of 0.25 per cent of development charges collected by his own agency, GHMC and other urban local bodies, plus those from projects taken up for all road and railway works within its limits to be utilised for research and training in traffic & transportation as well as to meet UMTA expenses.

The stipulated amount of development charges of GHMC and HMDA is to be pooled and other organisations like R&B, National Highways and A.P. Industrial and Infrastructure Corporation to follow suit with regard to works being taken up within HMDA limits.

It was noted that private buses will be allowed only on the service roads on the main Outer Ring Road (ORR) from Gachibowli to Shamshabad junction and not on the main road itself as no bus stops are being planned.

The R&B and NH officials have agreed to take up development of road from Nizampet road junction to Erragadda along with their respective roads within GHMC.

The GHMC Commissioner has also been asked to coordinate with the District Collectors concerned to identify land in the next three months for taking up two proposed new freight terminals at Timmapur and Shankarpally for their long term requirements.

The SCR had earlier sought land for three such freight terminals, besides four new passenger terminals at Hi-Tec City, Moula Ali, Medchal and Shamshabad (Umdanagar railway station).

Source: The Hindu 18/4/10

Metro Rail: Financial bids by April 21, 8 companies pre-qualify for Hyderabad metro

All the eight consortia and firms in the race for the Rs 12,132-crore Hyderabad metro rail project have pre-qualified for financial bids. They have to submit financial bids before April 21.

The municipal administration and urban development (MA&UD) department on Tuesday released the names of the eight short-listed companies—Transstroy-OJSC Transstroy-CR 18G-BEML Consortium, Reliance Infrastructure-Reliance Infocomm, Lanco Infratech-OHL Concesiones SL, Essar-Leighton-Gayatri-VNR consortium, GMR Infrastructure Ltd, GVK-Samsung C&T Corporation, Soma-Strabag AG (Austria) and Larsen & Toubro Ltd.

The Metro Rail project is being taken up by the Hyderabad Metro Rail Limited (HMRL) under design, build, finance, operate and transfer basis and request for qualification (RFQ) was called in July, 2009, inviting bids. Due to a host of reasons, the date for submission of bids was extended four times since September 15.

The HMR would start issuing Request for Proposal (RFP) from February 24 to the eight consortia for submitting their final bids.

To discourage non-serious candidates, the bid security amount has been enhanced to Rs 240 crore (two per cent of the project cost) from Rs 60 crore earlier. Similarly, the performance security deposit has been increased to Rs 360 crore (three per cent of the project cost) from the earlier Rs 240 crore. The bidders have to pay the bid security amount along with financial bids to HMR. However, the performance security amount can be paid at the time of financial closure.

Meanwhile, the GO issued by MA&UD said the pre-qualification of Soma-Strabag AG (Austria) consortium would be subject to the condition that it furnishes a fresh ratification Power of Attorney under the common seal of Soma Enterprises Limited within one month from the date of issue of Request for Proposal and another prospective developer Transstroy-OJSC Transstroy-CR 18 G-BEML consortium has to furnish fresh ratification of Lead Member POA by BEML under the common seal of the company, necessary supporting documents, submission of stand-alone audited annual accounts of China Railway Construction Corporation for the year 2008 along with statutory auditor's certificate as proof of fulfilling the networth criterion as per RFQ within one month.

Source: The Times of India 24/2/10.

Hyderabad: The Hyderabad Metro Rail project will be awarded to a new developer in May this year and will be completed in five years, the Andhra Pradesh government said in the State Assembly on Friday.

The cost of the Hyderabad Metro Rail would be Rs 12,132 crore.

The minister for urban development, Mr Anam Ramnarayana Reddy, told the House during Question Hour that the work for the elevated metro rail project would be awarded on the condition that the developer complete it in five years.

He said the project was earlier awarded to Maytas Infra, a sister concern of Satyam Computer Services, but the government scrapped the deal after Satyam's founder and chairman B. Ramalinga Raju admitted to massive fraud in the IT major last year.

The government called fresh global tenders. Last month, it announced receiving pre-qualification bids from eight companies/consortia.

They will participate in technical and financial bidding for the elevated metro rail project to be taken up in public private, partnership on design, build, finance, operate and transfer (DBFOT) basis.

The companies would be shortlisted in technical bidding and financial bids would be invited on April 9.

The minister had then said that the ground work on the project for three routes of the 71.16 km was expected to start by October.

The central and state governments could fund 40 percent of the project cost (a maximum of Rs 4,853 crore) as Viability Gap Funding (VGF). The centre has already sanctioned Rs 2,363 crore as its share under the VGF.

Source: Deccan Chronicle 19/2/10

The Anil Ambani group's Reliance Infrastructure and Hyderabad-based Lanco Infratechhave so far purchased the Request for Qualification applications for taking up the Rs 12,132-crore (Rs 121.32 billion) Hyderabad Metro Rail project.

Six other infrastructure firms, including GVK, Essar and L&T, have also evinced interest and are having discussions with the officials concerned. Among those actively considering the project are two major firms from Delhi and one from Mumbai, which do not want to be named at present.

"We are expecting at least four serious bids for the project," HMR managing director, N V S Reddy, told Business Standard.

HMR started selling RFQ applications from July 24 and the last date for giving these in is September 15. It has decided to hold a pre-qualification conference on August 22.

A consortium led by Reliance Infrastructure, Essar Construction and the GVK Group had also participated in earlier global bids called for the public-private partnership project. But, the project was finally bagged by a consortium led by Maytas Infra, a listed company run by the family of Satyam Computer Services' founder, Ramalinga Raju, which was the lowest bidder.

However, last month, the Andhra Pradesh government cancelled the concessionaire agreement awarded to Maytas for failing to achieve financial closure till more than three months after the initial deadline lapsed in March.

Subsequently, the state government, which also decided not to return the Rs 71 crore (Rs 710 million) that Maytas had paid to it in phases, called for fresh global bids for the 71-km elevated rail project.

Maytas had filed a petition challenging cancellation of the concessionaire agreement in the high court. The HC had declined to stay the order and posted it for further hearing on August 11.

Maytas had paid Rs 11 crore (Rs 110 million) as an initial amount, besides providing Rs 60 crore (Rs 600 million) in a bank guarantee after signing the concessionaire agreement in September last year. As per the agreement, the company forfeited this money if it failed to achieve financial closure for the project by March 17, 2009.

Keeping in view its past experience, HMR has tightened the conditions in its latest RFQ document to avoid non-serious bidders. It has raised the cost of the RFQ application to Rs 10 lakh (Rs 1 million) as against Rs 100,000 in the previous bid. It also raised the bid security amount to 1 per cent (Rs 120 crore or Rs 1.2 billion) of the project cost from 0.5 per cent (Rs 60 crore or Rs 600 million) earlier.

It has also stipulated that the net worth of the prospective bidder should be at least Rs 3,000 crore or Rs 30 billion (earlier Rs 1,500 crore or Rs 15 billion). The bidder should also have implemented Rs 18,000 crore (Rs 180 billion) worth of projects in the past 10 years.

The state government has also retained the right to reject any application or all the applications or bids without assigning any reason.

Source: Rediffbusiness 10/8/09